Features

Update 2021/12/17
WTWomen




brought to you in part by












Markie Miller – A Voice For Lake Erie



By Suzanne Forcese

"I have been called to carry a message. It wasn't something I planned, or something I could ever strive for, or even thought about. But, when I received 'the call', there was no other option. I know have a responsibility to act on that call. I am the Voice for Lake Erie."

--Markie Miller, Volunteer Organizer for Toledoans for Safe Water in an Interview with WATERTODAY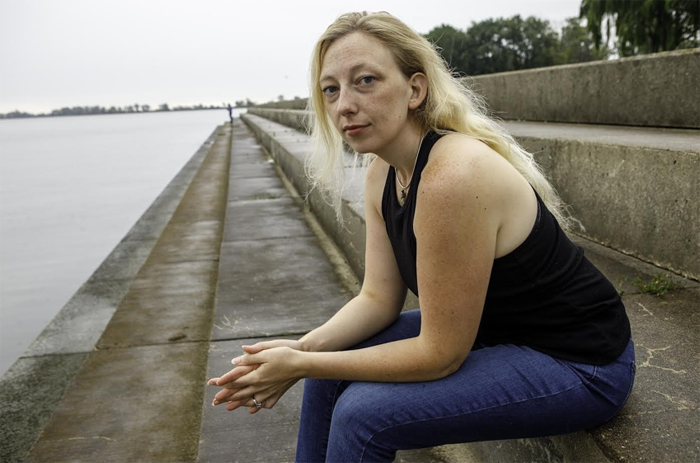 Photo Credit Steven Rubin
In 2014, half a million citizens of Toledo could not drink or use or drink their water for five days due to toxic algal blooms in Lake Erie. Following that crisis, Toledoans For Safe Water (TFSW) was birthed. The advocacy group wrote, petitioned, and campaigned for the LAKE ERIE BILL OF RIGHTS – the first Rights of Nature law for a specific ecosystem in the United States. The law passed in 2019. However, with ongoing corporate and State opposition, the battle continues.
The following interview between WATERTODAY & MARKIE MILLER has been edited for clarity and length.
WTOH: You are still an active voice in the Rights of Nature and Lake Erie, can you give our audience a snapshot of your continuing involvement?
MM: Rights of Nature for Lake Erie is my life. I lend my voice in the hope that others will be inspired to speak up and take action for just, fair, and sustainable communities.
I am regularly invited to speak at different functions and to high school and university classes. It's really rewarding to know that people have not forgotten the power of this story. When people say, 'this is what we want' and see what TFSW has accomplished, they can build on our efforts.
WTOH: And the documentary – Invisible Hand?
MM: I recently participated in the Rights of Nature documentary produced and narrated by Mark Ruffalo. We are also working on a university curriculum to accompany the film. It's a wonderful story that says, 'This could be your community'. So, it's a starting point for discussion and action.
WTOH: In 2019 you spoke before the United Nations about LEBOR (Lake Erie Bill of Rights). What was that experience like for you?
MM: It was both rewarding and daunting. Here I was just an ordinary person from a scrappy grassroots organization that was invited to this platform. I had five minutes to showcase our story with people representing whole countries from the entire world.
It was such an odd moment. Everyone from these countries knows about LEBOR. It was like an international soap opera where everyone wanted to know what was happening next.
It also made me sad to know we have a name in the world and international support but at home, we are vilified.
WTOH: Where did all this start...your passion for water and Lake Erie?
MM: It's odd. I did not know I had this passion until I came home after grad school...but it was always there. As a child, every summer my parents would pile our family of six into the car and four hours later we would be at Lake Huron to spend the summer. It was just the way it was. Glorious summers, the beach, the freedom.
I had friends who spent the summers at Lake Erie, but our family was of the mindset that Lake Erie is too polluted. That's just the way it is.
I was in environmental studies, and I really had no desire to continue because it seemed to me that everything that was being taught was not equipping me. We were just being bombarded with problems and a regulatory system that was flawed.
I felt I was failing the environment.
It was in the summer of 2014, the year of the crisis, that I realized I had to be the change but on my terms. I had always been taught or led to believe not to ask questions. It was easier to blame the wind, the rainfall, climate change. But I got so angry when I saw that corporations had no accountability.
That's when I realized my connection to the water. It had always been there, but it took the crisis of 2014 to make me understand. I remember thinking 'this is real'.
WTOH: Who has inspired you?
MM: My parents. They gave me that connection to water that planted the seeds. Even the way they talked about the pollution in Lake Erie. The seeds were planted to make me want to initiate change.
Also, Vandana Shiva. To me she embodies the ideal female figure. She's knowledgeable, passionate and demonstrates a balance between passion and science.
This is what Nature needs. What my efforts call for.
As well, my favorite book is Braiding Sweetgrass by Robin Wall Kimmerer. The lessons are so endearing but powerful.
WTOH: What has your journey taught you?
MM: An evolution starts with a crisis. For me it was 'I have no water today, how I get through this?' which evolved to 'is everyone in my family OK?'. Then the realization that half a million people are affected. Then that evolved to understanding how Lake Erie has suffered for decades – which further evolved to whole communities suffering, plant life suffering, wildlife suffering because of the harms done to Lake Erie. Then beyond that – people not yet born will suffer.
That's what drives me. If we can reach people to make a cultural shift... if we can create the awareness that we have to value our water because it is valuable – not because it's gone... If we can make that shift that this is our life, that this is a priority...then there is hope.
WTOH: What would you say to the children that have inherited the Lake Erie legacy?
MM: This is something I think about a lot. My husband and I are at the point where we are thinking about starting a family. The way parents talk about water influences the children's perceptions.
It's all about planting seeds. In my own family, for instance, the discourse was always that Lake Erie is polluted. That's just the way it is. And as a child, I just accepted that there was nothing that could be done. But the seeds were planted.
I think we have to plant seeds about Nature. It's not just the park down the street. We have to talk about how everyone and everything is connected by water.
You can't force a passion, but if you make it a constant in their lives by creating memories – just like my own family summer trips to Lake Huron – then when the kids grow up, they will be better equipped to challenge anything or anybody that does not value water.
WTOH: Finish this sentence: 'Water is...'
MM: Us. It's everything that connects us.
I look to the Lake. At this time of the year, she is frozen. She's at rest. In the summer, when the winds are stirring her up and huge waves are spewing up plastic bottles onto people's property and the shore – she is angry. She is trying to get our attention.
And I look to the seasons that create these responses from the Lake. There is a time to rest and be quiet. To contemplate. And a time to take that anger and make a change. A time to kick up and draw attention.
And then I look to the thick green slime on the Lake in summer. She is muzzled then. She cannot speak.
That's where I draw my power. I have to be her voice.