Feature

Update 2019/12/14
HABs



HABS Lake Erie

By Suzanne Forcese




Research suggests Ohio watersheds with large percentages of tile drainage could be exacerbating HAB severity in the Western Lake Erie Basin.

WATERTODAY spoke with Dr. Steven W. Lyon, Associate Professor in Hydrology and Water Resources at Ohio State University.

Dr. Lyon shared his two recently published articles with us. (Tile Drainage Causes

Flashy Stream Flow Response in Ohio Watersheds, July 2021; and, Tile Drainage Increases Total Runoff and Phosphorus Export During Wet Years in the Western Lake Erie Basin, October, 2021)
Harmful Algal Blooms (HABs)
Freshwater HABs negatively impact drinking water sources, wildlife, tourism, recreation, property values, and commercial fishing at an estimated annual loss of $4.6 billion in the United States and $5.3 billion in Canada.
HABs can be caused by various activities such as wastewater treatment plant discharges, septic system leaks, and fertilizer runoff from residential lawns. However, fertilizer or manure runoff from farm fields and runoff from animal agriculture manure lagoons are the main HAB drivers in agricultural landscapes.
Mitigating nutrient losses at the source in agricultural fields could prove to be a cost-effective alternative to reduce HABs in receiving waters and lakes.
Tile Drains
Studies have consistently shown that water exiting tile drains contribute significant amount of nutrients (nitrogen and phosphorus) to downstream water bodies.
"The take-away is that we want best management practices in place," Lyon said.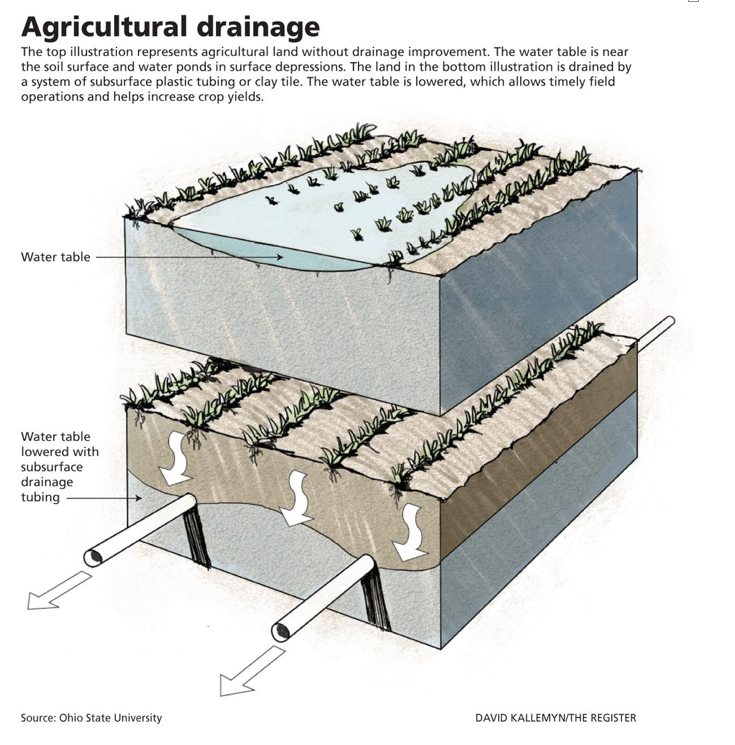 Drainage pipes are typically installed between 0.6 and 1.2 meters below the surface, approximately 10-30 meters apart, depending on site-specific soils, crop type and cost. Infiltrated water is captured underground by perforated drainage pipes and routed away from the field to adjacent ditches and streams
"Tile drains which were first used by ancient Egyptians, began to be installed in the Midwest during the late 19th century with the initial goal of strategically draining wet areas of farm fields that were susceptible to ponding, but installations are now common throughout the entire field to lower the water table."
According to the US Department of Agriculture (USDA) and National Agricultural Statistics Service (NASS) Census of Agriculture, 225,024 sq km of cropland are estimated to have tile drainage with the vast majority in the Midwest.
The Research Findings
The Western Lake Erie Basin is susceptible to summertime eutrophic conditions driven by non-point source nutrient pollution due to a shallow mean water depth and land use dominated by agriculture.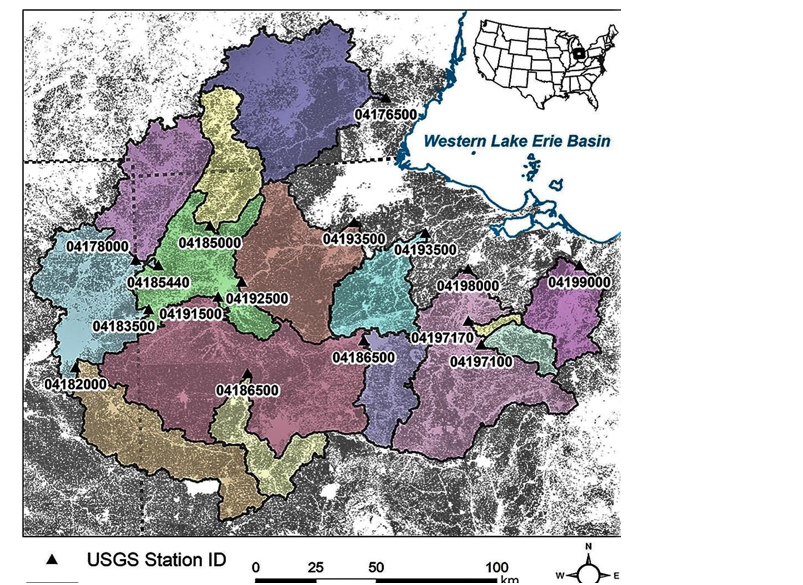 The study analyzed the impact of tile drainage on downstream discharge, nutrient concentrations and nutrient loads for 16 watersheds that drain to the Western Lake Erie Basin looking at a normal year (2018) and an above normal precipitation year (2019). The shaded areas within each color indicate the use of tile drainage.
"We found that the presence of tile drainage amplifies flashier streamflow responses in wetter years. Given the trend to higher precipitation weather events, we suspect that tile drainage will likely contribute to flashier downstream behavior in the future."
The Concern
"Storm events have been found to accelerate the transport of particulate and dissolved nutrient species in tile drainage."
Although the research findings found little difference in the transport of nitrogen levels between the normal year, in the wetter year (2019) the findings identified significant positive correlations between watershed tile drainage density, runoff and soluble reactive phosphorus that were not found in the drier year.
"From a management perspective, this difference in response suggests that tile drainage may amplify nutrient export during years with wetter than average precipitation."
An interesting observation demonstrated was that nitrogen appeared to be more impacted by deeper legacy sources compared to soluble reactive phosphorus being related to more shallow soil layer sources.
Mitigation Strategies
"Understanding the timing and releasing of nutrients is key," Lyon says.

Drains can act as conduits for nutrient export from agricultural fields. Increased harmful algal blooms severity will continue to be an ecological and economic problem if management efforts are not addressed at the source.

"Tile drainage outlets can be manipulated at the edge of a field to reduce discharge simply by manually turning an on-off valve. However, this is problematic. It is often difficult for a farmer to navigate muddy fields to reach the valve in adequate timing. And it's just one more thing to do on top of all the other work.

"We are working on automated water management data that functions independent of the farmer."

Lyon adds that there are a number of companies that provide this service.

"The benefit is that current systems can be retrofitted. Another plus is that there are government support programs that recognize the automated technology as an approved practice.

"As we are being faced with more climate change precipitation events, best management practices are imperative."



suzanne.f@watertoday.ca