>

WATER SHORTAGE
USGS streamflow monitors signal flash drought coming to Ohio
May 24, 2023 10:28 am EDT
Not so very long ago, the WTOH map was peppered with black and blue tags, our daily excerpts from the USGS WaterWatch real-time streamflow data representing high flows and floods.
Today, the leader of the USGS team responsible for the operation and maintenance of Ohio's extensive network of streamflow gages says we need to get ready for what's coming next.
Streamflow gages in Ohio have been indicating below normal and much below normal flows a concerning amount of time over the past several weeks.
According to Tom Harris, USGS Chief Hydrologist, "we are going into a drier pattern now which could cause some flash drought conditions in a week or so."
Flash drought, Harris says, "is where conditions such as high temps, low humidities and increased evapotranspiration lead to quickly drying conditions, enough to designate or officially call it a drought."
WaterToday tracks USGS WaterWatch current streamflow data by watershed area, with an alerts system coming online to notify Ohio residents about water issues and events that could impact local drinking water supply. While we have been focused on high flow conditions that threaten to inundate communities with flood, Harris advises it is time to prepare for low flows and the issues that ensue.
Water conservation, pollution prevention plans, careful adherence to discharge permits and emergency spill containment are the basic components of good water stewardship in any climatic condition. When drought chokes the head of a drainage basin, an on-point water management strategy becomes critical, as downstream effects of low flow are likely to be felt all the way to the Mississippi outlet in Louisiana.
Low flow conditions are associated with higher than normal surface water temperatures, higher concentrations of salts, nutrients and other contaminants, increased algae bloom, lower oxygen levels and higher stress on aquatic eco-systems impacting surface-sourced drinking water supplies, and eventually impacting the recharging of groundwater aquifers.
Follow WT Group for daily alerts on boil water advisories, stream flows, toxic spills and hazardous algae blooms. Check out interviews with the scientists collecting data and analyzing trends for accurate and timely information needed to effectively manage our most precious resource.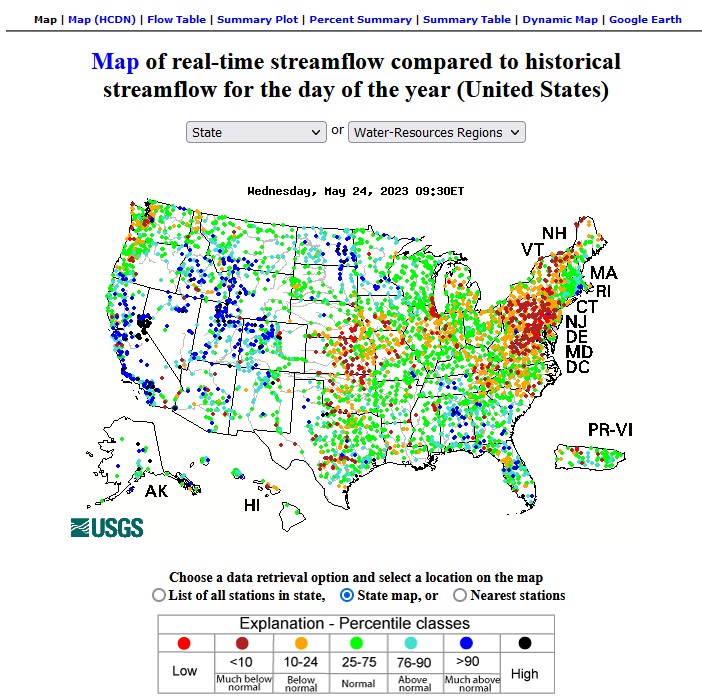 Check for upstream conditions in your watershed on USGS WaterWatch https://waterwatch.usgs.gov