Features

Update 2022/4/25
WTWomen


Cathy Bernardino Bailey a.k.a. FLOW (First Lady of Water)

Executive Director of the Greater Cincinnati Water Works



By Suzanne Forcese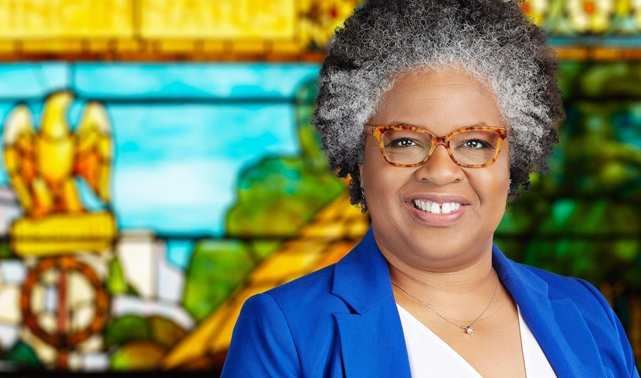 In 2015 Cathy Bailey became the first female and the first African American director in the 205-year history of the Greater Cincinnati Water Works (GCWW). In 2019 Bailey was named one of seven African American leaders in Cincinnati
Cathy Bailey has been with GCWW her entire 28-year career beginning as a chemist. She is the key visionary behind Greater Cincinnati Water Works' award-winning Lead Service Line Replacement Program. The GCWW Enhanced Lead Program uses a two-tiered approach –including increased public outreach and education along with a cost-sharing program to assist all customers with lead service line replacement. GCWW also offers free lead testing kits to customers along with water filters to qualifying households.
WT: Please describe the journey that shaped you and brought you to GCWW as a chemist.
Bailey: I am a Mountaineer living in Ohio. I grew up in Weirton, West Virginia, a small steel mill town in the northern panhandle of WV. Money was scarce at times, but we were rich in love, family, relationships, friends, education, and adventure. You hear stories of an entire neighborhood that looks out for you, helps raise you, knows you, and shapes you. That was definitely it.
My early days we lived in a predominately black neighborhood and we knew everyone. Those were great years of community and family engagement.
We moved to a predominately white neighborhood in my teen years which shaped my learnings in a different way. I am grateful for both experiences, the opportunities and the lessons both gave me.
Affording college was not on the radar until a scholarship landed me at the University of Cincinnati where I majored in chemistry.
My dad was a high-school science teacher and my uncle in Cincinnati was a chemist at Proctor and Gamble. My uncle and I would have some of the best conversations, geeking out on chemistry and related topics.
I started work in 1990 at the U.S. Environmental Protection Agency (EPA) as a research chemist before coming to GCWW. My love for water developed while working on water research projects. My passion deepened once I figured out that water is one big chemistry equation.
I came to GCWW to work in the granular activated carbon treatment plant, which opened my eyes to the world of water. I've been Executive Director since 2015.
WT: What have been the challenges in a male-dominated industry?
Bailey: At the beginning of my career, it was difficult to find mentors or other women to discuss the challenges we were experiencing. As the culture has morphed over time and there are more women in water, I try to be a resource for those women joining the industry.
WT: You have taken on some very impressive initiatives. Tell us about the award-winning lead service line replacement program that you created and how the Flint story affected this initiative.
Bailey: When I first started with GCWW back in 1992, the Lead and Copper Rule had just come out and we were talking about lead service line replacement back then. We were doing the public side replacement, but customers couldn't afford the private side replacement. At that time, we didn't even consider a way to help customers remove the lines. It wasn't even a thought.
I had been watching the Flint story daily from afar. Really watching it all in disbelief and really feeling the pain of the residents when authorities wouldn't listen to them.
I thought if this were a higher-income neighborhood, someone would be listening and acting. I asked myself how many other communities or segments of communities are being forgotten across the nation? How could this possibly happen? My thoughts would always come back to Flint. At the same time, we were reviewing our current lead program and planning to update it.
'What touched me to the core was the fact that the people of Flint looked like me and were living lives that I could relate to personally, and clearly understood. And those who could help...were not'.
In 1992, during those early conversations about our lead program, it was clear to me we had to do the right thing.
The right thing, in this case, was to remove the lead service lines in Cincinnati. It was important for me not to stop there but to participate in a greater conversation within the industry to remove lead lines.
WT: You are recognized for your understanding of community, and indeed are involved in organizations, boards, and volunteer work within your community. Have the challenges of the past two years influenced other actions you have initiated?
Bailey: Because of the pandemic, we have not been doing shutoffs. As we approach resuming shutoffs, we still have many customers who are unable to pay their bills, need payment plans, and need federal assistance programs.
When you can directly relate to those impacted, you have more insight on how solutions might work for more of your customers.
WT: You have had a long career at GCWW and clearly you have been well recognized for your many accomplishments along the way with promotions and leadership awards. What motivates you?
Bailey: At the end of the day, I am motivated to do the right thing. I am always moving to gather the information that determines the right thing. Once I figure that out, I am rolling and with this organization, plenty are rolling with me.
At the heart of this, I am motivated and driven by friendly atmospheres, problem-solving and adventurous ideas. If I don't find the friendly atmosphere and adventurous ideas in the space where I am working, it just means I need to create it and expand my connections by bringing others to the fold to help problem solve.
WT: What are your earliest memories of water? What does Water mean to you?
Bailey: I have very fond memories of water and many connections to it. As a young child, growing up in Weirton, WV, water was a fun experience. Summers meant swimming at the Community Center. Or, day trips included Raccoon Creek Pennsylvania State Park; Cedar Park in Sandusky, Ohio; and Sea World.
Now, Water is everything to me: Water is life. Water is such a significant resource in our lives, but we take it for granted. Water is connected to every aspect of our lives. It's our energy...MY energy!
I want children to understand the importance of water. It is a human right that should not be taken for granted. I would want them to work hard to make sure all humans have access to clean, safe drinking water.
I would like parents and teachers to share in teaching children this message and to show and live examples of how they can do their part to protect our water sources for themselves and future generations.
WT: Communication is important to you. Please tell us the many ways you use this tool.
Bailey: Connections remain alive with communication – be it with friends, family, groups, peers. We want to problem-solve in our community through outreach and education. It's the most important piece of what we do.
I lead with wanting to understand how we will communicate. It's not just about communication, it's about storytelling. We all remember stories much better than just a sentence or two of information.
During the isolation that the pandemic imposed on us, I needed to check in with the staff in a way that would uplift us. Early messages of 'do this, not that, stay there, wear a mask don't come to work', morphed into updates and my translation of things happening in poems or cartoons. I wanted to know they were laughing every day.
WT: You are a regular speaker and panelist at various conferences and water summits sharing your knowledge on strategic planning, employee engagement, and continuous improvement. Do you have any unique communication styles with industry and peers?
I love having fun at work. I often also share messages in rhyme when communicating in the water industry.
Sometimes I will even use reggae music in my presentations, especially the lyrics of Bob Marley.
WT: Can you leave one last quick rhyme thought for our viewers?
Bailey:
Every day, enjoy what you do
Give it your all, through and through
Cry some, but laugh even more,
Share your energy and carry light as you soar!