22/4/30 City Water


brought to you in part by




Cincinnati Drinking Water
Cincinnati's two water treatment plants earn
national recognition for water quality excellence
By Suzanne Forcese



"Successful solutions in our community are all about the connections we can make as an anchor institution. Whether it is in fundraising efforts for the Lead Service Line Replacement Program; Hosting Citizens Water Academy to create water ambassadors in our region; distributing classroom materials ; or working tirelessly with municipalities to reduce the number of customers eligible for shutoff, there is a positive vibe in all that we do to provide the lifeline of water daily to our region." - Cathy Bailey, Executive Director Greater Cincinnati Water Works

Greater Cincinnati Water Works (GCWW) supplies an average of more than 43billion gallons of water each year through more than 3,180 miles of water mains to more than 240,000 residential and commercial accounts representing more than 1.1 million customers in southwest Ohio and northern Kentucky.

GCWW has two water treatment plants: Richard Miller Treatment Plant (RMTP) and Charles M. Bolton Plant (CMBP). RMTP is a surface water treatment plant that draws water from the Ohio River. CMBP is a groundwater treatment plant drawing its water from the Great Miami Buried Valley Aquifer.

RMTP has a maximum capacity of 240 million gallons per day (MGD) and supplies 88% of GCWW water while CMBP provides a maximum capacity of 40 MGD of GCWW water.

WATERTODAY reached out to the Office of the Executive Director at GCWW ;. Here's what we learned about the latest treatment techniques in the two state-of-the-art facilities that remove harmful contaminants.

The Richard Miller Treatment Plant (RMTP)

Most GCWW customers receive water from the Richard Miller Treatment Plant on the Ohio river.



Granular activated carbon (GAC) treatment gives GCWW an edge in water quality management.
GAC allows for 2/3 less chlorine in the treatment process. GCWW "reactivates" carbon (burns off) contaminants in 2 giant 1,500&deg furnaces
The plant uses a conventional surface water filtration method, followed by post-filtration granular activated carbon (GAC) adsorption to remove organic materials.
The sourced water is first pre-filtered to remove larger solids by employing coagulation and high-rate sedimentation processes followed by biologically active rapid sand filtration, which removes particles and impurities.
Water recovered from the sand filtration process passes through granular activated carbon adsorption contractors.
The GAC contractors use 3.5m of GAC and take 15 minutes of empty bed contact time to remove organic materials.
"The most distinguishing characteristic of our treatment plant would be the use of full-scale GAC to remove chemical contaminants. We pioneered the use of GAC and were one of the first in the nation to use that technology."
UV Technology at RMTP
The UV technology consists of eight Calgon Carbon Sentinel ®48" Chevron medium pressure reactors, each capable of treating approximately 35 million gallons per day (MGD), with a total firm capacity of 240 MGD. Each reactor is installed with 20kW medium-pressure lamps to inactivate a broad range of waterborne pathogens such as Cryptosporidium and Giardia lamblia.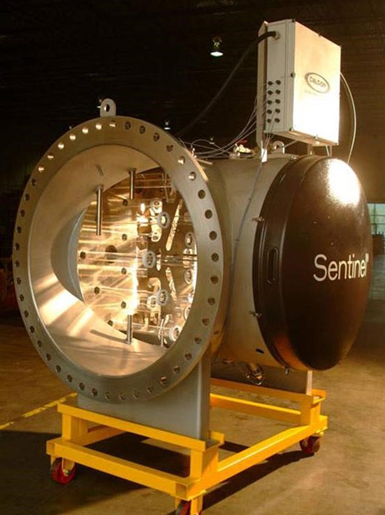 The Richard Miller Treatment Plant is installed with eight Calgon Carbon Sentinel® 48-inch Chevron medium-pressure reactors. The reactors were designed to achieve the highest disinfection credit permitted under federal drinking water rules.
"We are the leaders in this advanced treatment technology that uses UV light to assure the water is safe from pathogens. The use of GAC and the UV system is extremely rare, especially for a system our size."
Emerging Contaminants
The Ohio River is very industrialized with cities, factories, transportation, and a host of other potential sources of pollution that can make their way into the water.
"GAC is recognized as the best technology for removing PFAS and other emerging contaminants."
Monitoring
"GCWW has partnered with the Northern Kentucky Water District and the Ohio River Valley Water Sanitation Commission (ORSANCO) to implement an Ohio EPA
(1) endorsed source water protection program for the Ohio River near Cincinnati."
ORSANCO maintains 17 monitoring stations strategically placed along the Ohio River to detect and warn drinking water treatment plants about spills. GCWW participates as one of the monitoring stations for this program.
"If a spill is reported or detected in the river, GCWW will immediately assess the threat. Depending on the situation, GCWW can enact several responses including the use of powdered activated carbon and our granular activated carbon to remove the contaminant. GCWW also has the ability to shut down our river intakes and utilize water stored in large reservoirs to provide the water needs until the spill passes and the intakes can be re-opened."
The Charles M. Bolton Treatment Plant
GCWW also uses source water from its Charles M. Bolton Wellfield on the Great
Miami Aquifer. It is located in the portion of the aquifer served by the Hamilton to New Baltimore Consortium, which has developed an award-winning source water protection program to protect the aquifer.

Water treatment at CMBP is less complex than RMTP because of the plentiful high-quality groundwater supply. The specific treatment processes for CMBP are:
Softening
Corrosion Control
Disinfection
Fluoridation
Dual Media Filtration
Challenges
"Our plants are very well set to handle the challenges faced today and into the future. Flooding typically does not impact the quality of water produced by the plants. GCWW has developed contingency plans to operate under those types of conditions.
"BWAs are rare and, fortunately, very limited in scope. When one does occur, we notify the impacted residents directly with door hangers advising of the situation. We post on social media sites, and for large areas, our plan would be to contact local media to further inform people in the impacted area.
"Even during the recent global pandemic GCWW remained steadfast to our mission of providing ALL customers with a plentiful supply of high-quality water, support environmental sustainability, and deliver excellent services in a financially responsible manner. None of our customers water utility accounts were suspended for non-payment.
"GCWW has worked hard to continue being leaders in the industry and being innovative in our approach to public health. We are committed to decision making and systemic approaches with our community and public health in mind as water is key to life."